Your Neuroscience Lab
in a BOX!
Create incredible HCI & BCI projects using DIY Neuroscience Kits at the comfort zone of your home.
Reasons why the kits are AWESOME!
Provide an affordable and convenient way to experiment with neuroscience and BCI technology
These kits offer a valuable learning experience by allowing you to learn about neuroscience through hands-on experimentation.
These kits include all the necessary components and sensors to get started with your HCI/BCI projects eliminating the need to search for individual hardware separately.
The kits encourage you to explore new ideas, develop novel BCI applications, and contribute to the advancement of the field.
The field of HCI/BCI continues to evolve, so having hands-on experience can be valuable for career development & personal growth.
These kits can connect users to community of like-minded individuals dedicated to neuroscience & provide opportunities for collaboration, knowledge sharing, and support.
These kits allow the users to explore the practical applications of HCI & BCI such as controlling robotic systems, prosthetics, or VR interfaces.
These provide foundation for building HCI/BCI projects while allowing users to modify and expand upon the existing hardware.
This kit is perfect for students, researchers and hobbyists alike who want to start exploring neuroscience. Whether it's studying brain waves, monitoring heart rhythms, analyzing muscle movements, or tracking eye movements, this DIY kit provides an accessible and educational platform for understanding the complexities of human physiology and developing practical applications in the fields of healthcare, human-computer interaction, and beyond.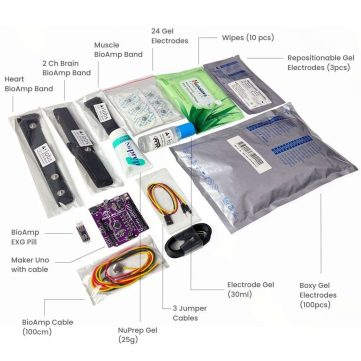 The advanced DIY Neuroscience kit with Muscle BioAmp Shield – an EMG Shield for Arduino UNO!
The shield offers multiple plug-and-play options, and additional data acquisition while the BioAmp EXG Pill enhances versatility by enabling the measurement of various biopotential signals, including EEG (brain), EOG (eyes), EMG (muscles), and ECG (heart). Embark on a journey of discovery, as you build exciting projects, develop HCI/BCI applications, and gain invaluable insights..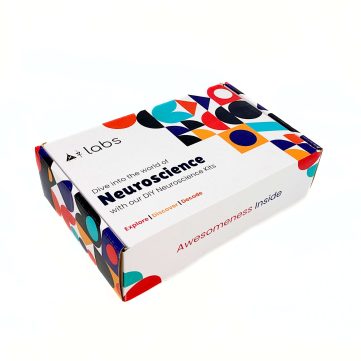 BioAmp Bands (For ECG, EMG, & EEG)
Skin Preparation Kit (NuPrep, Wipes)
Gel Electrodes (24+100 pc)
Repositionable gel electrodes (3 pc)
(With 1 BioAmp Cable, 6 STEMMA Cables, 9V snap cable, BioAmp AUX Cable, Muscle BioAmp Band, 24 gel electrodes, & Muscle BioAmp Shield)